Flute 360 | Episode 51: "Published Flutists with Mark Sparks" (1:08:46)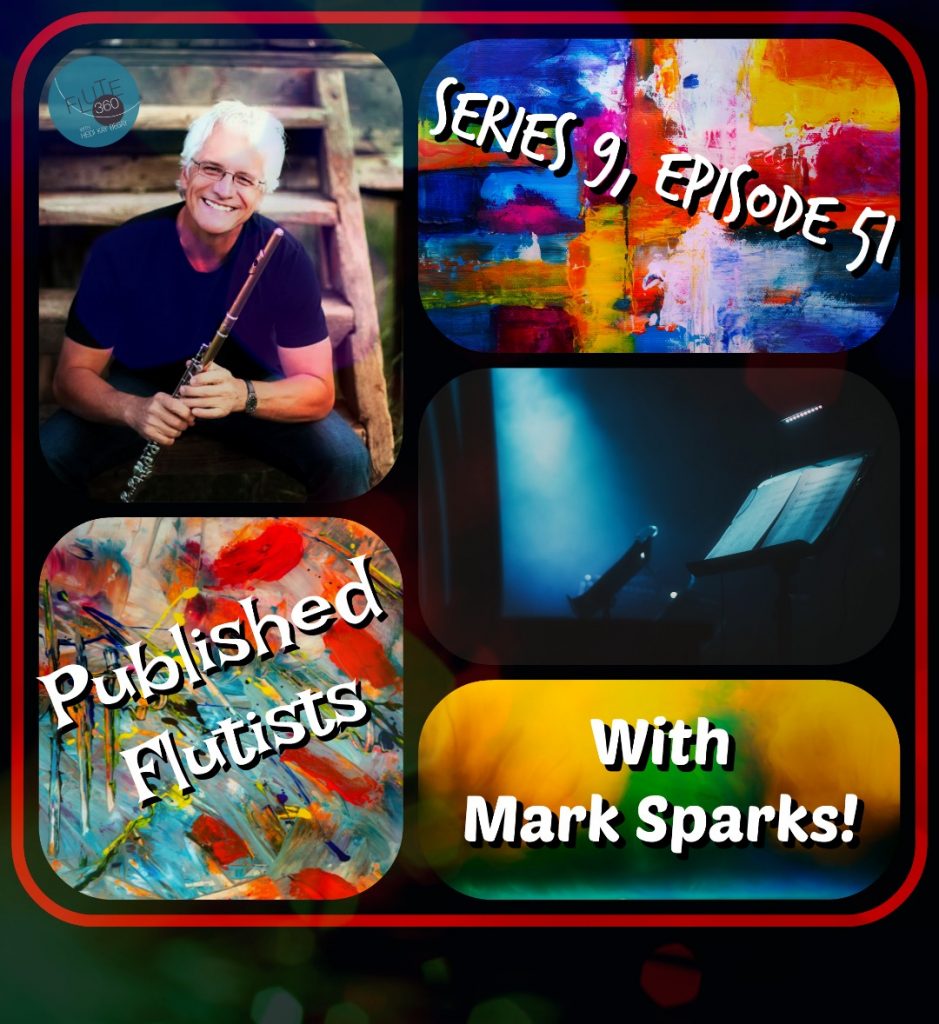 In today's episode, Heidi talks with flutist and teacher, Mark Sparks, who is the principal flutist of the St. Louis Symphony Orchestra. Heidi and Mark talk about his flute books and discuss the creative process. Check out today's episode to hear all the details!
Episode 51 – Main Points:
0:25 – J&K Productions' Website
0:46 – Welcome!
1:13 – St. Louis Symphony Orchestra
3:48 – Dr. Scott Pool, bassoonist
4:33 – Élégie for cello and piano, Op. 24 by Gabriel Fauré
5:39 – Theodore Presser
6:42 – Question: How did the idea of your books come about?
6:56 – Mark's Answer
14:31 – "My goal is for [my students] to be able to get rid of me." – Mark
14:52 – "The books have been a process of self-discovery for me." – Mark
18:02 – Heidi asks Mark a question.
18:12 – Mark's Answer
20:40 – Mark talks about his tone books.
20:54 – Trevor Wye, flutist
26:14 – Mark references page 11 from his Exploring Sound Book, Vol. 1.
30:55 – "I just love the orchestral repertoire so much!" – Mark
39:36 – Blind hope
40:04 – "Flute playing didn't come incredibly easy to me, and I had to go through a lot of phases to get to where I am." – Mark
40:58 – "Flute players are special because we have to have more trust in ourselves and faith in the act of flute playing. Perhaps more than other instrumentalists do, because we cannot see the air column." – Mark
47:20 – "To be able to write down what I think – I realize how incredible that is. There are so many people that do not have these kinds of opportunities, and I feel for them." – Mark
48:48 – Persistence is the key for aspiring musicians who want to author their ideas.
53:31 – "Persistence is so important." – Mark
54:05 – Goals for Flute 360's Series #9.
55:23 – "I tell my students: How do you know until you try?" – Heidi
56:38 – "We all have our strengths and weaknesses. We all need to be open and learn from each other." – Mark
1:03:28 – Picks!
Picks:
Mark
Heidi
Episode 51 – Resources Mentioned:
Episode 51 – Sponsors: