Flute 360 | Episode 45: "Competition Repertoire Guides with Amy Porter" (40:41)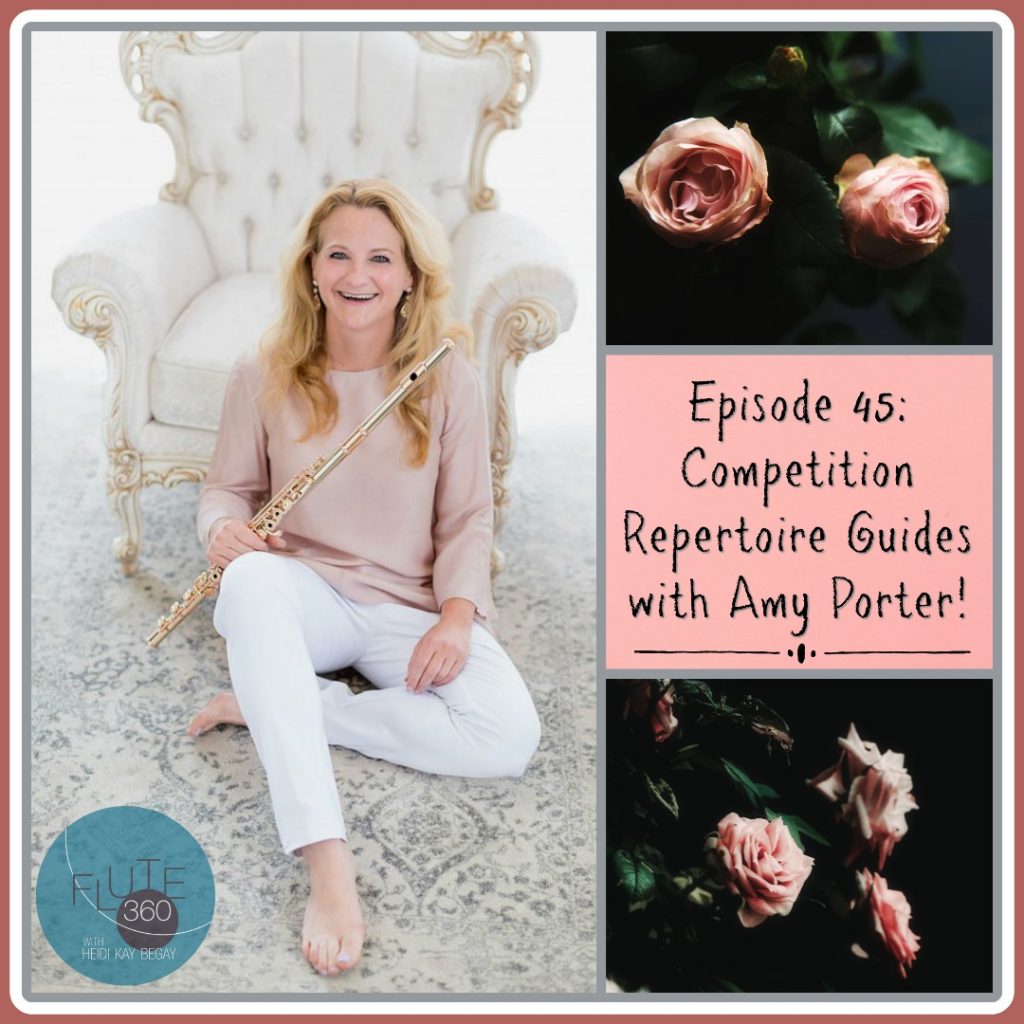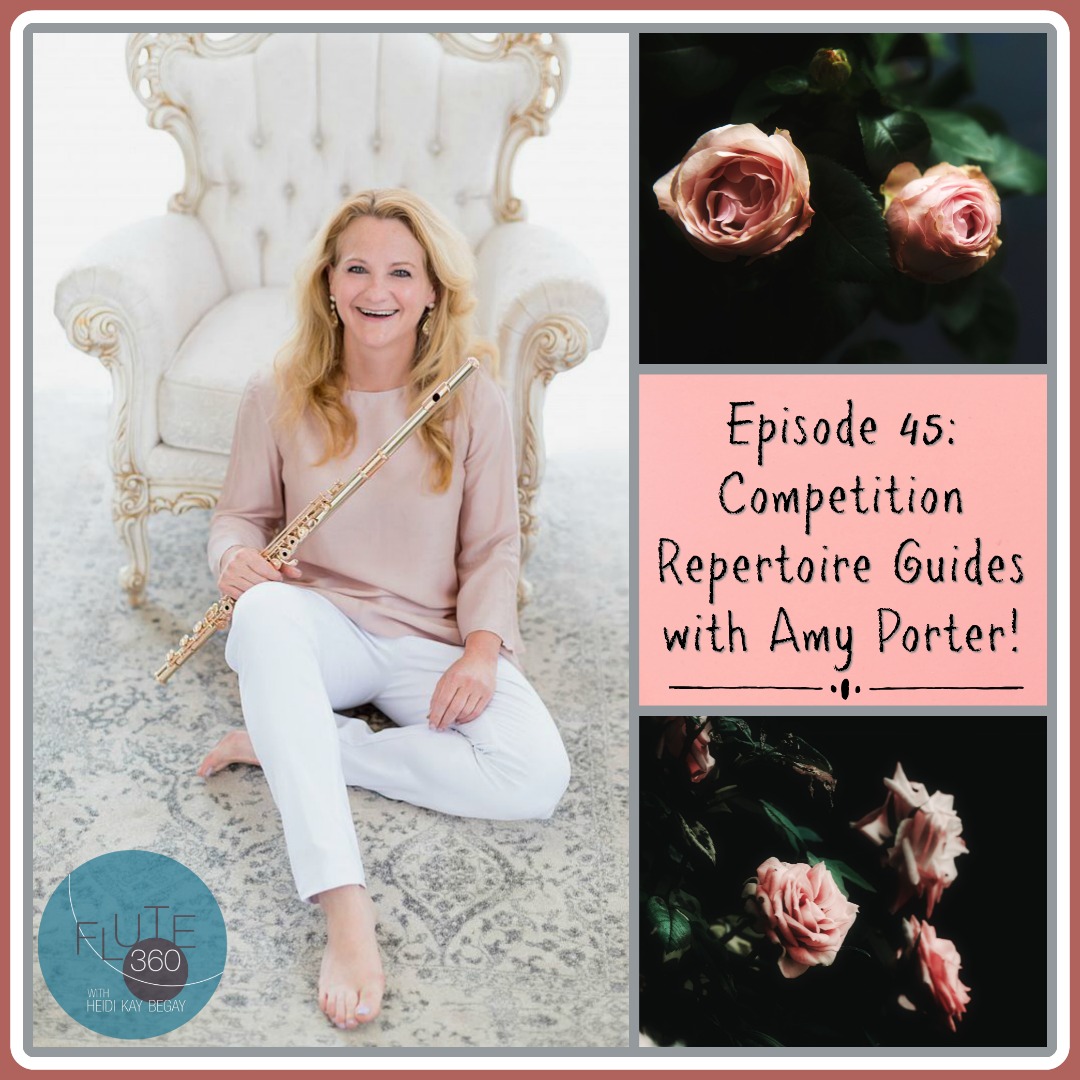 In today's episode, Heidi talks with Amy Porter (University of Michigan) about the piece, "East Wind" by Shulamit Ran and Telemann's Fantasie in A Major. Both pieces are repertoire requirements for TFS' Myrna Brown Competition. Amy goes into great detail about these flute solos and gives excellent advice on how one could approach these works. Check out today's episode to hear all the details!
Episode 45 – Main Points:
1:37 – Competition advice from Amy.
1:47 – Amy's lecture: Competition Repertoire, Research, and Rewards.
2:02 – Why are you doing the competition?
2:20 – "Competition is a great way to expand your repertoire!" – Amy
2:46 – "Play repertoire that best suits you." – Amy
3:15 – Check the editions.
4:18 – "You are representing your work, your heart, and your knowledge." – Amy
4:50 – "The rewards…who is anyone to judge us in the end? When what we are doing is beautiful." – Amy
5:17 – "Never give up and keep leaping." – Amy
5:40 – Flutists: Galway, Baxtresser, Rampal, and Baker
6:40 – Ran's East Wind for solo flute.
7:19 – Seth Allyn Morris, flutist
9:28 – The opening of Ran's East Wind.
9:48 – Articulation suggestion.
10:05 – Bridge the breath.
10:45 – The first two lines of East Wind.
11:09 – Biblical references.
11:55 – Correspondence between Professor Ran and Heidi.
12:26 – The different sections of East Wind from the composer.
13:17 – Flute 360's Composers Series
13:59 – Telemann's Fantasie in A Major.
14:09 – "The G# key is meant to mess you up!" – Amy
15:09 – "I call it defense playing: put your boxing gloves on." – Amy
15:31 – "The word 'yes' is super powerful!" – Amy
16:47 – Telemann ended all of his fantasias with a dance.
17:06 – Keith Underwood's suggestion about trills.
17:34 – Italian and French ornamentation.
17:48 – French ornamentation: essential, light, and quick.
17:57 – Italian ornamentation: florid and scalic passages.
19:46 – "I'm 'going to' is the wrong vocabulary. I 'will' do the ornament here." – Amy
21:25 – Amy's DVD: Anatomy of Sound
21:43 – Vibrato and Telemann
23:18 – Amy's exercise with her students – listen here!
25:33 – Amy's physical trainer, Larry.
25:57 – Yoga
27:27 – Flexible Mind, Flexible Body
28:46 – "The heart is a muscle. It has to be taxed, trained, and pushed!" – Amy
31:00 – Survival of the physical flutist.
31:40 – Reverse aging.
33:16 – Picks!
37:27 – Flute 360's Series 1: Health (Episodes 1-4)
Picks:
Amy
Episode 45 – Resources Mentioned:
Episode 45 – Sponsors:
---
Program Notes:
EAST WIND (l987)
EAST WIND for solo flute was commissioned by the National Flute Association for its annual Young Artists Competition, and was first performed by the six semi-finalists at the l988 San Diego NFA Convention. The work's opening motif is a slightly varied treatment of the simplest of ideas – a single note which is then encircled in a flourish-like gesture by its neighboring tones, consisting of a half step above and whole step below. It is this varied treatment, though, immediately conveying a hint of ecstasy and abandon, that imbues the motif with its distinctness and recognizable quality, maintained throughout the journey undertaken as the piece unfolds.
EAST WIND's central image — from within its ornamented, inflected, winding, twisting, at times convoluted lines, a gentle melody gradually emerges…
The work is dedicated to the memory of Karen Monson, a writer, critic and friend, who died in February 1988 at the age of 42, after the work was already fully composed.
-Shulamit Ran